Kickboxing Classes in Castle Rock
If you're looking for a great cardio workout and some top-notch striking technique, the kickboxing program at Easton Training Center is the right place for you. Designed as an entry-level class to the Muay Thai program, kickboxing will teach you the fundamentals of the sport, including footwork, punches, kicks, and knees.
The techniques taught in the Kickboxing program are real fighting techniques! If you want to focus on perfecting your punches, or are simply interested in changing up your striking routine, be sure to check out our Western boxing program. Learn the elements of boxing while you build upper body strength and endurance.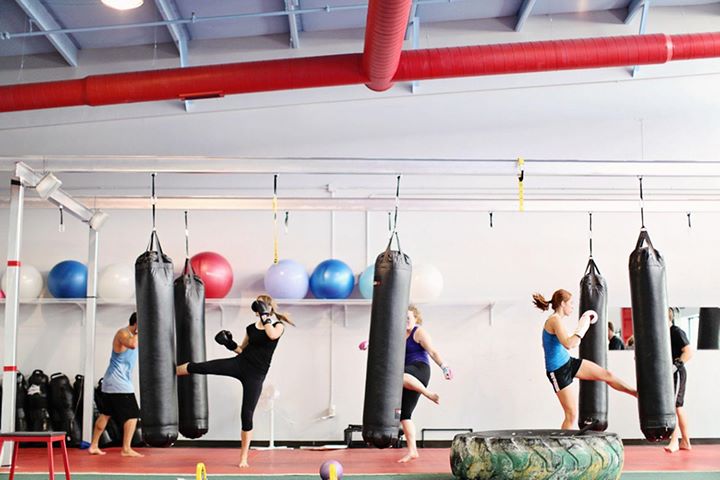 KICK FAT TO THE CURB WITH FITNESS KICKBOXING IN CASTLE ROCK!
At Easton Training Centers, kickboxing is more than a fitness class. And while we do emphasize the cardio element, it is paramount to our instructors to teach proper, applicable technique. Instead of throwing your punches and kicks into empty space, you will practice your combinations on the heavy bags.
Most classes also include a period of supervised partner work, when you'll drill the techniques you've learned with a partner as your instructor gives you feedback. Safety is our priority. Our instructors will make sure you are executing each strike correctly, teaching you to control your movements. When you learn from the best, you will become the best!
GET INTO THE BEST PHYSICAL AND MENTAL SHAPE OF YOUR LIFE!
At Easton Training Center in Castle Rock, we offer classes that are geared toward your specific goals and skill set!
Level 1 Kickboxing
The Kickboxing Level 1 class is designed as an entry-level class to our striking program. In this class, you will learn the proper fundamentals of kickboxing, including: stance, footwork, boxing, kicking, and knees. Every week, our instructors will focus on a particular technique, allowing students to get in some quality repetitions. While proper technique is emphasized, this class is fast-paced. Heavy bag work and body weight exercises are staples in every level 1 class, training just like the professional fighters do! This class prepares you for our Kickboxing Level 2 class and our Muay Thai program, providing all the basic techniques that are necessary to build a strong foundation.
Level 2 Kickboxing
The Kickboxing Level 2 program builds off the Level 1 curriculum, and is designed for students with a solid understanding of the basic kickboxing techniques. This class focuses on incorporating different strikes together, creating dynamic combinations. All combinations used in this class are real techniques used at the highest level of the sport. This class is run similar to a heavy bag training session for professional fighters: warm up, technique work, heavy bag drills, and body weight exercises. Similar to the Level 1 class, there is no contact in this class. Partner drills will be limited to catching punches on the gloves. Students in this class will push their limits, both physically and technically.
You'll enjoy tons of added benefits too!
Extra weight will vanish and reveal muscle tone
Self-esteem will skyrocket as you learn critical self-defense moves
Your concentration and focus will sharpen
Stress levels will be at an all-time low
UPGRADE YOUR LIFE STARTING TODAY!
In order to take advantage of all the incredible benefits of the Kickboxing classes in Castle Rock, fill out the short form on the side of this page!